We Must Not Depend on Fossil Fuel Anymore, President Jokowi Says
By
Office of Assistant to Deputy Cabinet Secretary for State Documents & Translation &nbsp &nbsp
Date
25 Februari 2019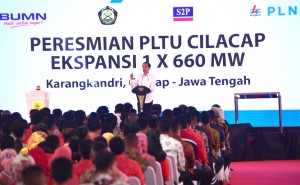 Indonesia's future energy sources must no longer depend on fossil fuel including coal, according to President Joko "Jokowi" Widodo.
"Last year, we developed wind power plants in Sidrap and Jeneponto, South Sulawesi," the President said during the inauguration of Cilacap Steam-fuelled Power Plant (PLTU) Expansion with the capacity of 1×660 MW, in Karangkandri, Cilacap, Central Java, on Monday (25/2).
According to the President, one can feel the atmosphere of the Netherlands in Sidrap and Jeneponto when seeing all the blades of the wind turbines upon the hill rotate.
"The Government will continue developing wind power plants in other locations that have strong and steady wind," he said, adding that the Government also projects to develop hydropower plant (PLTA) since Indonesia has many rivers.
"Therefore, we must use these two energy sources so the country will not depend only on coal. It is understandable that we still use coal as energy source, but we must start to think our vision for another 50 or 100 years," the President explained.
So when coal or fossil fuel run out in the future, Indonesia still has renewable energy sources such as wind and water from rivers, he said.
"This is our vision; to not depend on fossil fuel. I really appreciated the development of this PLTU that has large capacity, 660 MW. The power generated can add the country's electricity supply for industry or domestic use, particularly in Java Island," the President added.
President Jokowi went on to say that an additional 1,000 MW is under development and will be completed by the end of this year.
For the record, the development was initially projected to be finished in 2020, but it is accelerated to the end of this year. (FID/RAH/EN)
Translated by: Rany Anjany
Edited by: M. Ersan Pamungkas