Gov't to Halt Roadworks 10 Days Before & After Eid Day to Smoothen Mudik Flow
By
Office of Assistant to Deputy Cabinet Secretary for State Documents & Translation &nbsp &nbsp
Date
6 Mei 2019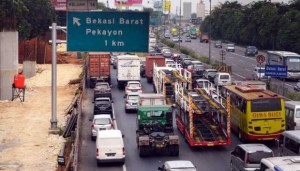 In a bid to improve the security, safety, and convenience aspects of this year's mudik (annual exodus ahead of Eid Al-Fitr), Ministry of Public Works and Public Housing has completed the construction of the 965-km Trans Java Toll Road, the 31-km of Pandaan – Malang Toll Road Section 1-3, and 503-km Trans Sumatra Toll Road.
All roadworks including the construction and repair on both toll and non-toll roads will be halted ten days before Eid Day and ten days after the D-day to ensure the smooth flow of mudik.
"It includes the construction of Cikampek II Elevated Toll Road where the lanes which are temporarily closed for construction will be reopened and cleaned, so there will be four lanes for each direction as before the construction," Minister of Public Works and Public Housing Basuki Hadimuljono said in Jakarta.
To ancitipate traffic congestion, the Ministry also reviews the possible impact of moving Cikarang Utama Toll Gate to Cikampek Utama Toll Gate and Kalihurip Utama Toll Gate which is initially aimed to share lanes for vehicles heading to Cikampek-Palimanan Toll and those heading to Purwakarta-Bandung-Cileunyi Toll.
For the facilities, there are 71 rest areas spread along the Trans Java Toll Road (one rest area per twenty kilometers) in which 55 rest areas have been in operation and the remaining 16 are in construction phase. In addition, the Ministry will also provide 10 mobile toilet units, 11 bus toilet units, 19 sewage trucks, and 42 water trucks, as well as deploy disaster response team in order to anticipate emergencies, such as floods, puddles, and landslides at disaster-prone points.
Meanwhile in Sumatra, Trans Sumatra Toll Road spanning 503 km consisting of 278-km operational toll roads and 225-km of functional toll roads are ready to operate during this year's mudik. The operational toll roads are Bakaheuni-Terbanggi Besar Toll (140.9 km), Palembang-Indralaya Toll (21.93 km), Medan-Binjai Toll Section 2&3 (10.46 km), Medan-Kualanamu-Tebing Tinggi Toll (62.11 km), and Belawan-Medan-Tanjung Morawa Toll (42.7 km), while the functional toll roads are Terbanggi Besar – Pematang Panggang Toll (189 km), Kayuagung-Palembang-Betung Toll (33 km), and Medan – Binjai Toll Section 1 (2.8 km). For the record, there is one rest and service area on Bakauheni – Terbanggi Besar Toll Road KM 20+700.
In the meantime, Head of the Indonesia Toll Road Authority (BPJT) of the Ministry, Danang Parikesit, asserted that the Ministry will keep monitoring the Terbanggi Besar – Pematang Panggang – Kayu Agung Toll Road until 10 days before the Eid in order to ensure that the Toll Road can be operated functionally.
He also urged the travelers to pay attention to the vehicle speed on the functional toll, and ensure that they have sufficient amount of fuel and the engine is in good condition.
The Ministry will coordinate with the Ministry of Transportation, the National Police Traffic Corps (Korlantas),  the Meteorology, Climatology, and Geophysics Agency (BMKG), as well as other related ministries/institutions in the operation of the 2019 mudik, including implement one-way traffic system to the functional toll. (Ministry of Public Works and Public Housing/ES)
Translated by : Rany Anjany Subachrum
Edited by : Muhardi/ Yuyu Mulyani