Discussing the Border Areas Development, President Jokowi Invites Leaders of State Institutions
Oleh
Humas &nbsp &nbsp
Dipublikasikan pada
15 Januari 2015
President Joko Widodo (Jokowi), Wednesday (14/1) afternoon, at the State Palace, Jakarta, invites leaders of high state institutions to discuss the acceleration of development in the border areas.
The meeting was attended by Vice President Jusuf Kalla, Chairman of the House of Representatives Novanto, Chairman of DPD Irman Gusman, Chairman of the Supreme Court Hatta Ali, Chairman of the Constitutional Court Arief Hidayat, and Chairman of the Assembly Zulkifli Hassan, as well as Chairman of the Supreme Audit Agency Harry Azhar Asis.
After the meeting which lasted approximately two (2) hours, Chairman of the People's Consultative Assembly (MPR) Zulkifli Hasan said the development in the border area is required, so that the border area does not become a backyard but the front yard of Indonesia.
Furthermore, according to Zulkifli, the meeting also discussed the development of infrastructure as well as acceleration and distribution of development and prosperity.
The Routine Meeting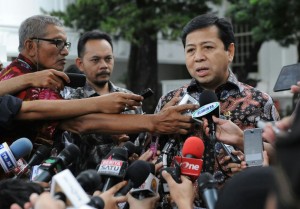 Meanwhile, Chairman of House of Representatives, Novanto revealed that the President and state institutions will carry out the regular meetings to discuss the growing issues.
"The meeting will be continued, whether every 2-3 months in accordance with the development of the situation later," Novanto said.
Previously, when arriving at the State Palace, Speaker of the House of Representatives Novanto said, the meeting with leaders of state institutions that was at the invitation of President Jokowi to discuss various things. (Humas Setkab/WID/ES)