Gov't Extends Micro-Scale Restrictions Policy
Oleh
Office of Assistant to Deputy Cabinet Secretary for State Documents & Translation &nbsp &nbsp
Dipublikasikan pada
20 Maret 2021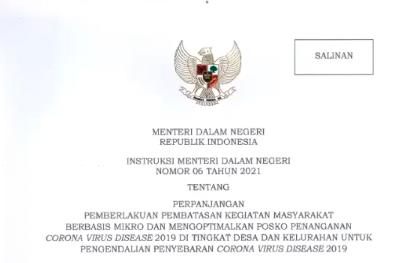 The Government has decided to extend the implementation of Micro-Scale Activity Restrictions (PPKM) from 23 March until 5 April 2021.
The extension is stipulated in Instruction of Minister of Home Affairs Number 6 of 2021 issued on 19 March 2021.
"Based on the data from the COVID-19 (Handling) Task Force and from Ministry of Health, the micro-scale activity restrictions is expanded to the provinces of North Sulawesi, South Kalimantan, Central Kalimantan, East Nusa Tenggara, and West Nusa Tenggara. It means that the restrictions policy is imposed in 15 provinces," Minister of Home Affairs Muhammad Tito Karnavian said in a press conference, Friday (19/03).
For the record, the micro-scale activity restrictions had previously been implemented in ten provinces, namely Jakarta, Banten, West Java, Yogyakarta, Central Java, East Java, Bali, North Sumatra, East Kalimantan and South Sulawesi.
Based on evaluation, the implementation of the micro-scale activity restrictions has been running well and has been effective in reducing the active cases of COVID-19. In a bid to accelerate measures to reduce the number of positive cases, the micro-scale activity restrictions policy is extended and expanded to several areas based on active cases rate, recovery rate, mortality rate, and the level of Bed Occupancy Ratio (BOR).
"The Instruction of Ministry of Home Affairs provides general guidelines, and every region can implement it by taking into account the challenges in every region," Tito said.
The Minister also asked Governors to involve the Regional Leadership Communication Forum (Forkopimda) and all stakeholders of regional apparatus in implementing the micro-scale activity restrictions and in disseminating health protocols to prevent the transmission of COVID-19.
In addition to extending the micro-scale activity restrictions and prioritizing innovation and breakthroughs in tackling COVID-19, Tito also asked regional heads to conduct evaluations, so that the handling of COVID-19 can run effectively. (PR of Ministry of Home Affairs/UN) (RI/MUR)